Satay Curry and coconut rice. Chicken Satay Curry – this is how you get your satay fix! It's Malaysian Satay skewers, in curry form. Satay Chicken Curry (Malaysian). "I rarely leave comments on blogs…but I am going OUT OF MY MIND about this recipe.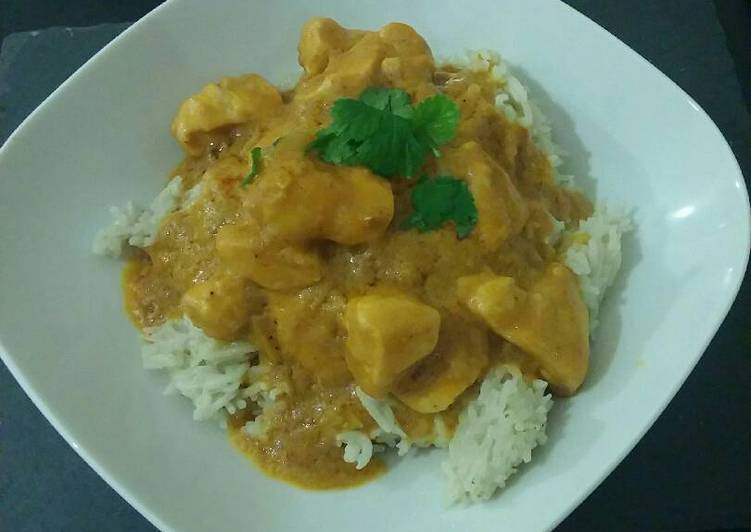 Fragrant yellow rice with a touch of curry and spices, cooked in coconut milk and topped with roasted peanuts and fresh coriander (cilantro). Serve hot or at room temperature, on it's own or as a side to satay chicken or vegetarian cuisine. This dairy-free chicken satay curry recipe, is guaranteed to be a crowd pleaser! You can have Satay Curry and coconut rice using 10 ingredients and 6 steps. Here is how you cook that.
Ingredients of Satay Curry and coconut rice
Prepare 2 tins of coconut milk.
It's 1 inch of fresh ginger.
Prepare 2 heaped tbsp of peanut butter.
It's 2 cloves of garlic.
You need 3 tbsp of soy sauce.
You need 400 g of chicken breast.
You need 1 of medium white onion.
It's of Basmati rice.
It's to taste of salt and pepper.
It's 1 tsp of brown sugar.
This chicken satay curry has a silky rich sauce made with coconut cream and fragrant kaffir lime leaves. Sprinkle over roasted peanuts and serve with kale and brown rice for a wonderfully satisfying bowlful. Incredibly flavorful yellow curry chicken and rice made in one pot with plenty of veggies and delicious flavors from coconut milk, ginger, garlic and turmeric! In a saucepan, bring the rice, water, canola oil and a pinch of salt to a boil; cover.
Satay Curry and coconut rice instructions
In a blender or food processor, add in your tin of coconut milk, inch of ginger, 2 cloves of garlic, peanut butter, 1 tsp of brown sugar and soy sauce. Waz it up until blended..
Dice up the white onion and add to a dry or piled pan, fry up until browned. When browned add in your chicken breast (diced) and brown off..
When the chicken is browned up, pour over the satay sauce from the blender and bring to a boil then reduce to a simmer for 20 minutes..
In another pan, empty your other tin of coconut milk into it, refill the tin with basmati rice and empty into the pan, add cold water to the tin and once again empty into the pan. Add salt and pepper to the rice and give it a stir..
Bring the rice to a boil, reduce to a simmer and give it one more stir and place a lid over. Leave to cook for 15 minutes.
When the rice is finished cooking the curry should be reduced enough for a nice creamy sauce with tender meat. Plate up and garnish with some fresh coriander..
Add the coconut milk, stock and curry paste and bring to a boil, stirring. Serve over coconut rice and garnish with coriander leaves and chopped roasted peanuts. Satay is my favourite but the coconut rice as well makes for the perfect combination. Quick and easy to make too. Caribbean cuisine is known for its savory curries, flavored with spices like turmeric, coriander, and cumin as well as local seasonings like allspice.