Oatmeal and Banana Muffins. Add the mashed banana, and combine thoroughly. Stir the flour mixture into the banana mixture until just combined. These easy and healthy Banana Oatmeal Cup Muffins are super simple to make and taste delicious.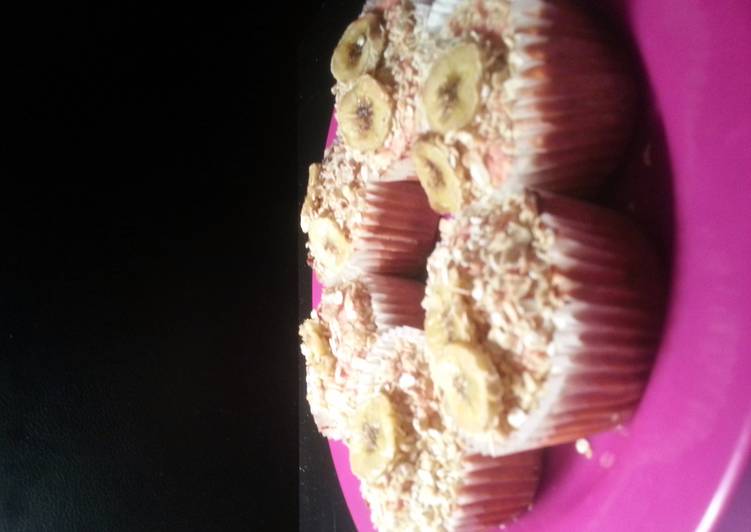 They are made with low fat Greek yogurt, unsweetened applesauce and whole wheat flour, making them a healthy breakfast option with fiber and protein. Easy to make and freezer friendly. These healthy banana muffins are fluffy and irresistible, yet made with wholesome ingredients. You can have Oatmeal and Banana Muffins using 12 ingredients and 6 steps. Here is how you achieve that.
Ingredients of Oatmeal and Banana Muffins
You need 1/3 cup of sugar.
Prepare 1/2 cup of all purpose flour.
You need 2 tbsp of butter.
You need 2 of bananas (mashed).
Prepare 1 of banana (sliced).
Prepare 1/3 tsp of vanilla.
Prepare 1 cup of quick oatmeal.
Prepare 1/3 tsp of baking powder.
Prepare 1 of egg.
Prepare 3 tbsp of milk.
Prepare 1 dash of cinnamon.
You need 1/4 tsp of cinnamon.
They're made with whole wheat flour and naturally sweetened with maple syrup or honey. Plus, they're so easy to make (no mixer required). Banana oatmeal muffins are naturally gluten free and made with no butter, no oil and no refined sugar. Super healthy banana oatmeal muffins are naturally gluten free and so simple to make!
Oatmeal and Banana Muffins instructions
preheat oven to 350°F or 175°C.
cream butter and sugar until cream and smooth. add the egg and mix, careful not to curdle it. mix in the vanilla and cinnamon..
sift in the flour and baking powder. fold it in slowly..
next take 3/4 of the oatmeal and mix it in well. add in the milk until it is in thr dropping consistency..
line cupcake tin with paper cups and fill it in 2/3 full. sprinkle leftover oatmeal of the muffins and add banana slices as toppings..
bake for 15-20 mins or until toothpick comes out clean.
When they don't have school, my kids are largely on their own for breakfast. They're buttery, soft, and spiced with cinnamon. These banana muffins are soft, buttery, and spiced with cinnamon. Add oats and milk, and mix. Let the mixture sit for a few minutes, so the oats soak up the liquid and the consistency is like oatmeal.