Flakey Buttermilk Biscuits.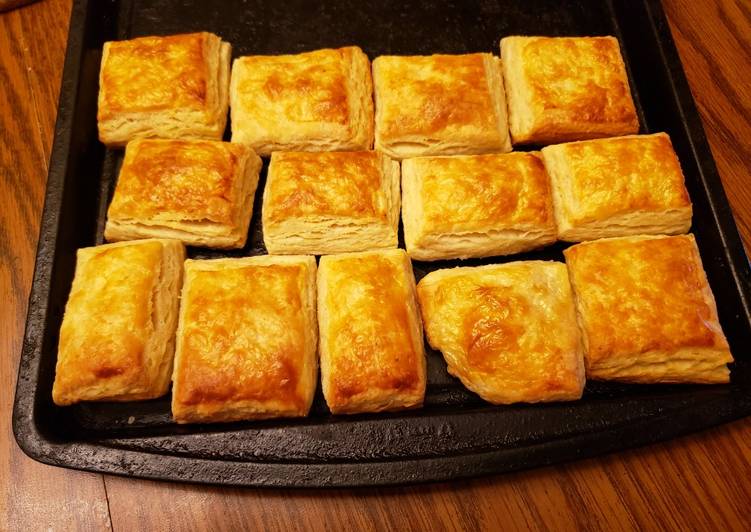 You can cook Flakey Buttermilk Biscuits using 7 ingredients and 37 steps. Here is how you cook that.
Ingredients of Flakey Buttermilk Biscuits
Prepare 568 g of AP Flour (unbleached or bleached).
You need 01 tablespoon of & 01 teaspoon baking powder.
You need 01 teaspoon of baking soda.
Prepare 01.50 teaspoon of kosher salt.
It's 01.00 teaspoon of granulated sugar.
It's 03.00 sticks (01.50 cups) of unsalted butter (frozen).
You need 01.75 cups of buttermilk.
Flakey Buttermilk Biscuits step by step
Set oven rack to just below middle..
Set oven to 550°F/287.78°C..
In a large bowl combine: flour, baking powder, baking soda, salt, and sugar..
Thoroughly mix to combine..
Using a grater, on the large hole side, grate the frozen butter as far down as you safely can..
Place all butter into the flour mixture..
Quickly and gently toss/combine the butter and flour..
Add the buttermilk..
Stir together until dough appears to be a dry shaggy mess; this is expected..
Dump contents onto a lightly floured work surface.
Gently press dough together into a rough rectangle approximately 5"x7" with the long side facing you..
Start the lamination process by using a bench scraper, starting at the short sides, fold the left side over by 2/3 and the fold the right side over that..
Turn the dough 90° so now the short side is facing you..
Using a rolling pin, roll dough out to a 5"x7" rectangle, using flour under your dough as needed..
Repeat steps 09-12 for 4 additional turns for a total of 05 turns..
Roll the final dough out to slightly larger than 10"x15"..
Using a bench scraper, trim off shaggy edges of dough to form a 10"x15" rectangle as best as you can..
Save trimmings for later use..
Using bench scraper, cut biscuits into 02.50"x02.50" squares as best you can..
Place biscuits onto baking sheet with approximately 00.25" gap..
Brush tops of biscuits with buttermilk..
Place biscuits in very cold refrigerator for 30 -45 minutes to firm up butter in dough..
Take one piece of scrap, layer side up, begin coiling it..
Once at the end, take another scrap, pinch the ends together, and continue coiling..
Continue 23-24 until all scraps are coiled and kind of look like a giant rose..
Place on a small baking dish..
Brush top with buttermilk..
Place in very cold refrigerator for 30-45 minutes..
After biscuits have sufficiently chilled place in oven..
Bake at 550°F/287.78°C for 05.00 minutes..
Drop temperature to 450°F / 232.22°C..
Continue baking for 15 minutes..
If there is room in the oven bake the rose, otherwise, when the main biscuits are done, then bake this..
Bake for 20 minutes..
Remove from oven..
Transfer biscuits to a wire rack..
Enjoy..