Super-simple Pea and Mint Soup. Once cooked, blend the soup in a food processor, blender, or an immersion blender to create a thick puree. Super-simple Pea and Mint Soup betandr. This is a filling and fresh soup, packed with protein, fibre and vitamins.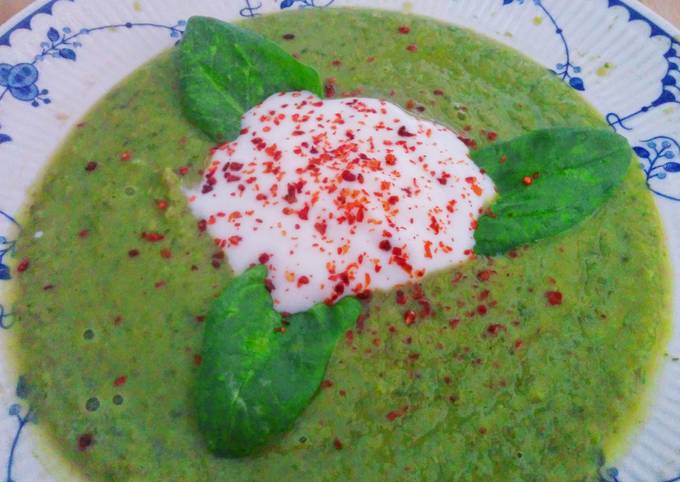 Packed with peas and fresh mint, it's the perfect dish to refresh your taste buds this summer. Serve alone or try serving with your favourite bread or crackers. How to Make Pea and Mint Soup Finely chop the shallots, garlic, and mint. You can cook Super-simple Pea and Mint Soup using 7 ingredients and 7 steps. Here is how you achieve it.
Ingredients of Super-simple Pea and Mint Soup
Prepare 200 grams of frozen peas.
You need 1 tbsp of olive oil.
Prepare 1 small of onion.
You need 1 bunch of fresh mint.
It's 300 ml of vegetable bouillon.
Prepare 1 clove of garlic.
You need 2 tbsp of fresh yogurt.
Heat the oil in a pan over low heat, then cook softly for two or three minutes until the ingredients have softened and the shallots have become translucent. Add the peas and the vegetable stock to the pan. This vibrantly green Pea and Mint Soup makes for a delightfully filling lunch. Soup is always a healthy and easy lunch idea and also a perfect food for your baby.
Super-simple Pea and Mint Soup step by step
Chop the garlic and onion and fry in the olive oil until soft.
Add the peas and the vegetable bouillon and enough water to cover the peas.
Bring to the boil then turn down the heat to simmer for around 10 minutes.
Chop the mint, leaving a few leaves aside to serve.
Add the mint to the pan and cook for 2 minutes.
Use an immersion (or regular) blender to puree the soup.
Serve hot and place the yogurt on top with some of the mint leaves.
Just remember to omit salt and go low on the stock when making for your baby. This particular flavour is packed with hearty vegetables, and the mint gives the meal a refreshing kick. This recipe tastes of pure goodness and is perfect. Melt butter in a large saucepan or Dutch oven over low heat. Increase heat to medium, and bring to a boil.